My next Bars classes- Register Here:Feb/Mar, 2023


My next Bars trades- Register Here:February 5, 2023




What is Access Bars?
Access Bars is a process to clear away stress and trauma, described as a reset for the mind. Everyone experiences it differently. Dain Heer, the co-creator of Access Consciousness, got relief from feeling suicidal and was happy again after years of depression. Personally I found the process to be very relaxing, and I love that there is a simple way to work on PTSD during the Bars session.

(From the Access Consciousness FAQ page)

"What are "The Bars"?

The Bars are a series of 32 points on the head, which when lightly touched release old energies stuck in the brain and the body, allowing for tremendous and easy change.

What does a Bars session do?
The Bars takes all the considerations, thoughts, feelings, emotions, decisions, judgments, and beliefs from any lifetime, that are electrically stored in the brain and releases them. This release occurs when the bars are touched; it allows that stored junk to be released. Similar to when the lights go out in your house and you flip the circuit breaker or trip switch so the lights come on: having your bars done allows your lights to come on. The energy of the universe becomes available to you and this often results in more peace, ease, joy and glory in life. Several doctors who are experts in biofeedback have reported changes in their brain waves, going from beta to much more relaxed theta waves in the course of a one hour session. Luckily for us, Access has known for years that the Bars change the electrical function of the brain.

What can you expect after receiving the Bars?
Every Bars session is different. The worst that can happen after a Bars session is you feel as relaxed as if you had received a great massage. The best that can happen is your whole life can change. Among the most commonly reported effects are: an increased sense of peace and ease, being less reactive to situations which might have upset you in the past, more restful and deep sleep, feeling that whatever was upsetting before the session doesn't matter any more."


This article describes what many people experience before and after a Bars session.

The videos below describe the effects of Bars on the Brain, and a pilot study published in The Energy Psychology Journal that found Bars to be helpful in addressing anxiety and depression.
If the videos are not showing up in your browser you can use the Firefox browser or click here to watch Review of Access Bars® by Neuroscientist Dr. Jeffrey L. Fannin and here to watch The Effect of Access Bars on Anxiety & Depression - with Dr. Dain Heer & Dr. Terrie Hope on youtube.





Schedule Your Bars Session
To schedule one session, please click on the "Schedule Appointment" button to select your session time and pay for your session time. Because I have to reserve the space in advance for your session, session payment in advance is required. To purchase a session package of 4 sessions for $399, a savings of $133, or 10 sessions for $999, a savings of $331, please use the payment button below. You will get a unique session link for scheduling the sessions which will not require payment when scheduling.
Schedule Appointment





Access Bars Gifting and Receiving Event
Febuary 5, 3:00 - 6:30pm.
Trade and upgrade your Bars awareness with other practitioners or give the gift of bars to someone who is new to Bars. Symphony of Possibilities energy and reviewing and facilitation of Access tools may also be a part of the event. To reserve your space please register on the Access Consciousness website here. If you have had a Bars Class or session with me you get free admission to my Bars Gifting and Receiving events. If you haven't worked with me before please complete payment for the event here,
Access Bars Gifting and Receiving $14.44



Learn Access Bars- January 8, 2023 9:30am - 4:30pm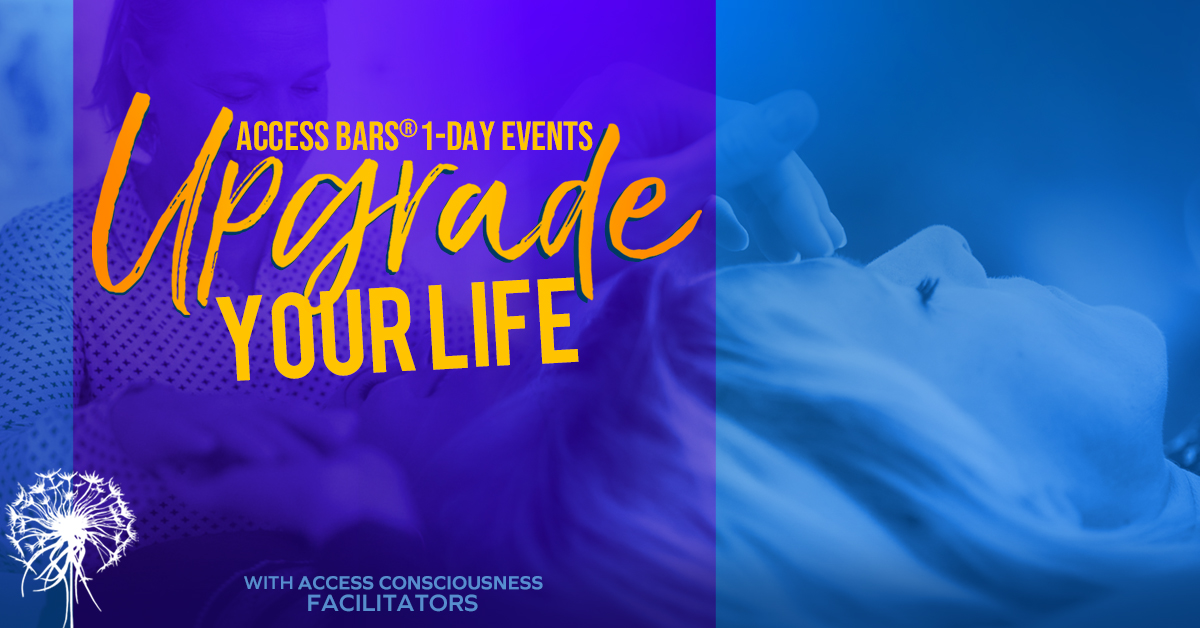 What can you expect from a Bars Class?
>Learn how to run the Bars
>Receive two Bars sessions
>Perform two Bars sessions
>Learn powerful Access Consciousness tools that will make a difference in your life and maybe someone else's too
>Become Certified as a Bars Practitioner which means that you will know the process to run the Bars on yourself and others and you can earn money doing Bars sessions for people

With your first Bars class you are certified as a Bars Practitioner, you receive a class manual and charts of the Bars. To become a Bars Facilitator and be able to teach Bars classes. you will need to take two more Bars classes with other instructors. After your first Bars class, you get repeat pricing for any other Bars classes which is 50% off. Bars classes as of October 1, 2022 are only done in Person, except for Global Bars Day classes with Access Consciousness founder Gary Douglass and Co-Creator Dr. Dain Heer that you can attend online and receive credit towards becoming a Bars Facilitator.

Please register for class on the Access Consciousness website here:
Please complete your class payment below, select the New Student if you've never taken a Bars class or Repeat Pricing if you've taken a Bars class within the past year.by purchasing any service from this website you agree to the Terms Of Service.


What's next after Bars class?
Practice!
Bars trades (gifting and receiving)
Foundation class
Access Facelift
Access Body Processes





Naomi Harel
Naomi@LiveYourMiracles.com
336-701-0177